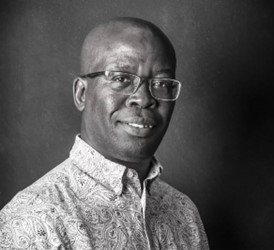 Fred Khumalo is a novelist and short story writer based in Johannesburg, South Africa. The author of 13 books, he currently works as a freelance journalist and columnist and is based in Johannesburg, Gauteng. 
He holds an MA Creative Writing from Wits University, is a Nieman Fellow at Harvard University, a Fellow of the Academy of the Arts of the World (Cologne, Germany), a Fellow of the Stellenbosch Institute for Advanced Study, a Fellow of the Johannesburg Institute for Advanced Study and is also a PhD (Creative Writing) candidate at the University of Pretoria. In 2021 he was appointed Adjunct Professor of African Literature at the University of South Africa. Khumalo is also a member of PEN SA.
Khumalo's books tend to focus on South Africa's past and present. He is largely concerned with bringing South African history, particularly that which has been forgotten or generally unknown, to the fore, so that it may not disappear into the past but also reignite unfinished conversations around issues of race, identity, land and more. His literary acknowledgements speak for themselves. Winner of the European Union Literary Award 2006 for his debut novel, Bitches Brew, the Multilingualism Award 2017 for #ZuptasMustFall, and Other Rants, the Humanities and Social Sciences Award 2019 for Dancing the Death Drill, the SALA Novel Award 2021 for Ngenxa yeMendi (isiZulu), and the SALA Nadine Gordimer Short Story Award 2020 for Talk of the Town and Other Stories, he was also runner-up for the Bertrams V.O. Literature of Africa Award 1996 and the Nadine Gordimer Short Story Award 1991. 
Likewise, he has been nominated for the Alan Paton Award 2007 (Touch My Blood), twice for the Commonwealth Short Story Prize (2015: "Legs of Thunder," 2018: "Talk of the Town"), the Short Story Day Africa Award 2015 for "Water No Get Enemy," the Barry Ronge Fiction Prize 2018 for Dancing the Death Drill, Barry Ronge Fiction Prize 2021 for The Longest March, the Sunday Times Fiction Prize 2008 for Seven Steps to Heaven, and three times for the Miles Morland Scholarship for Writers.
His books are:
Two Tons O'Fun (novel)
The Longest March (novel)
Coat of Many Colours (short-story collection)
Dancing the Death Drill (novel)
Bitches' Brew (novel)
Seven Steps to Heaven (novel)
Ngenxa yeMendi (Zulu novel)
UManzekhofi nezakhe (collection of Zulu short stories)
Touch My Blood (autobiography)
Zulu Boy Gone Crazy (essays)
The Lighter Side of Life on Robben Island (essays)
#ZuptasMustFall and Other Rants (essays).