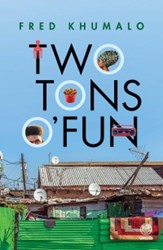 Alexandra, Johannesburg. A car has collided with a Coca-Cola truck. The overturned trailer is spilling its contents, which residents are carrying off in their plastic 'Shangaan Gucci' bags. With two other bystanders, Lerato Morolong, age fourteen, helps the injured truck driver. The woman who drives them to hospital is Professor Ngobese, matriarch of the family at Number 80, the only house in the neighbourhood with a street address, aka Those White People.
Here begins Lerato's relationship with the Ngobeses – Auntie Gugu and her daughter Janine, who becomes Lerato's best friend and one half of the dancing duo, Two Tons o' Fun (because life's too short to be spent in a tent dress).
As Lerato's story unfolds, we meet her quick-fingered, beer-loving, man-eating mom June-Rose, who's not afraid to use the knife she keeps in her bra, Lerato's sister the 12-year-old Florence, who inherited her mother's tough survivor's spirit, and the rest of the community with whom they live. When June-Rose brings home yet another man, Florence runs away with dire consequences. Revelations emerge, such as the truth about Lerato's father, who lost his way in the conflicts at the end of apartheid.
Rich and humorous, this vibrant coming-of-age story sees a young woman uncover her skill as a writer, explore her sexuality, travel, and finally understand her mother.
Author: Fred Khumalo
Genre: Commercial Fiction, bildungsroman
Status: Published, Umuzi Penguin Random House SA, 2022
Rights: World rights available, excl. South African English
Words: approx. 70,000