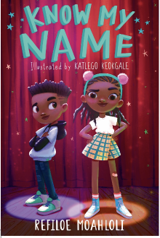 Written by Refiloe Moahloli
Illustrated by Katlego Keogale
Rorisang and her twin brother Mo must start the school year at a new school after their mom decides that the family needs to get out of their comfort zone. The twins have attended the school across the road since they were toddlers. All their friends are there, and their dad is best friends with the headmaster.
The new school is far from their house. Luckily Rorisang makes new friends quickly, learns to play softball and performs a praise poem at the Eisteddfod. She even survives the long trips in the car with her pest of a brother!
Rights Info
Rights: World Rights available, excl South African
Genre: Children's  fiction, Early Readers
Publisher: PanMacmillan, South Africa
Format: 64 pages, b/w illustrated
Publishing date: September 2021