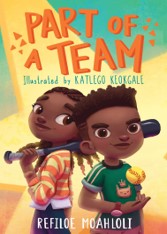 Written by Refiloe Moahloli
Illustrated by Katlego Keogale
Morena loves his new school! There are so many fun extramural activities and games to play that he and his friends have set up their own championship. Before school starts and at break Morena and his friends plays marbles, cards, soccer and shoot hoops. 
If there's one thing Morena takes seriously it is being the captain of his school's softball team. He is good at pitching and his twin sister Rorisang is an excellent batter. But their team keeps losing! Morena isn't scared of a challenge, he'll try his best at any game to be a superstar. How can he help his team to do their best?
Rights Info
Rights: World Rights available, excl English South African
Genre: Children's  fiction, Early Readers
Publisher: PanMacmillan, South Africa
Format: 64 pages, b/w illustrated
Publishing date: September 2021