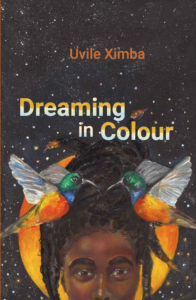 As students at university of Makhanda, South Africa during the #RUReferenceList campaign, Langa and her lover Khwezi have a passionate and complex relationship. Puzzling gaps in her memory haunt Langa, yet her dreams are vivid with colors and symbols that hint at a nightmare of forgotten violations and losses. So many secrets—and Langa has had enough of secrets and silences. Who can she turn to? Her mother? Her grandmother? Khwezi? Or herself?
Dreaming in Colour is Langa's story of coming out to herself, of discerning the history behind the closed door of conscious memory, and exposing the bedraggled yet colourful magic of queer life.
In this, her debut novel, Uvile Ximba explores with subtlety, humour and probing insight the connections between the joyful reclaiming of pleasure and the healing of buried traumas. 
Rights Info
Author: Uvile Ximba
Title: Dreaming in Colour
Genre: Literary fiction
Rights: Foreign translation rights, World English sold (Interlink US) 
Pages: 140  pages